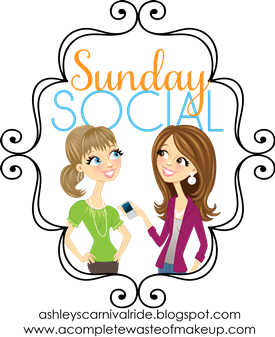 Linking up with Neely and Ashley for Sunday Social.
If you feel like being social with other bloggers then go link up!
1. If you were stuck on an island, what are the two material items you would want to have?
My iPhone with a million backup batteries, and my book collection.
2. What are two TV shows that you watch over and over?
3. If your house were on fire what two things would you grab, besides family and pets?
I would grab my electronics, iPad, laptop, and iPhone. I would probably grab my handbag that has all of my current information and cards in it.
4. What are your two most favorite items of clothing?
I don't get emotionally attached to clothes like a lot of girls. Never underestimate the power of a good jean. I love my J Crew Matchstick jeans. A second favorite would be one of my little black dresses!
5. What two movies that you saw in the past year would you recommend to us?
We go to a lot of movies! A lot!
Last year I loved
6. What are you two biggest guilty pleasures?
Reality TV, particularly The Bachelor series! && Young Adult fiction!